Lumi Is One Of The Best Prospa Alternatives
If your business is grinding to a halt, Lumi is one of the best possible Prospa alternatives to get you on the road again. With flexible funding, transparent pricing, fast applications and same day transfer of money our finance solutions are designed to help small businesses win big.
Borrow between $5,000 and $500,000 with up to $300,000 available unsecured with no assets required as collateral for loan periods that range from 3 to 36 months. With unsecured funding your business can take the necessary steps to flourish and thrive without the added pressure of your family home or significant business assets put on the line to mitigate any potential risks.
A small business driven set of financial products that puts Lumi front and centre as a Prospa alternative, capable of delivering the level of flexibility required to succeed on the small business landscape. Flexible loan terms that cover the spectrum from short term to long term at the 3 year mark equate to accessible funding for business owners in various industries and financial situations.
Lumi small business loans are an excellent Prospa alternative for managing anything from fluctuations in cash flow, fluctuations to meeting commitments to fulfill the payment of employee wages. If supplier invoices are the stumbling block causing the business to struggle then the fast same-day access we offer to funding is potentially the solution you've been looking for. And when purchasing inventory it can make the difference between operating at the current level or upgrading and moving to the next, Lumi loans offer a swift resolution to the challenge with a fast, low doc, collateral free application process.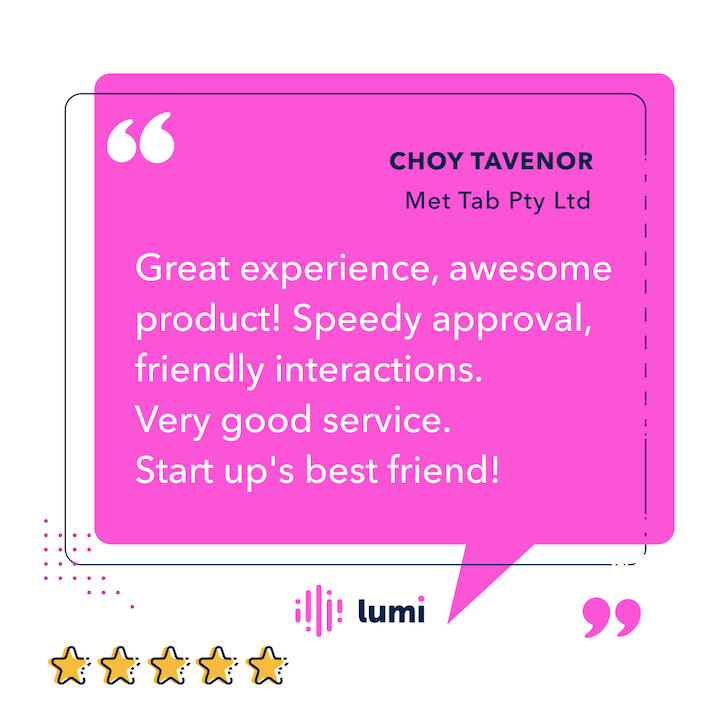 Other reasons to consider Lumi as a bona fide Prospa alternative include our ability to boost cash flow and empower small businesses. Be an innovator in your industry or field of trade with the ability to invest in new technology. Choose the right product for your business and get ready to buy the machines and equipment necessary to move your business forward.
A strategic increase in inventory, materials, supplies, or resources such as staff and optimum technology essentially require cash at hand, and on demand. As a Prospa alternative Lumi delivers with a 'no surprises' approach to transparent pricing that allows you to calculate the exact impact and potential pay off of the loan you decide to apply for.
If you're looking to secure finance for these reasons, then Lumi is a viable Prospa alternative and a great way of working towards these business milestones.
Still wondering whether Lumi makes a valid Prospa alternative? Check out the side by side comparison table below.
| | Lumi | Prospa |
| --- | --- | --- |
| Easy online application | | |
| Fast lending decisions | | |
| 4-week interest-free Payment Pause on eligible business term loans | Eligible businesses can pause their loan repayments for 4 weeks at 0 interest, whenever their business needs it. | N/A |
| Flexible pricing & loan terms | Lending decisions are made on a case by case basis to cater for the individual needs of each customer. | N/A |
| Transparency | No hidden fees or charges. What you see is what you get | N/A |
| Proprietary Technology for faster and smarter lending decisions | | |
Excellent Customer Service
As a Prospa alternative Lumi does not consider you to be a reference number. You're not an application, or the sum of your worth as written on paper. You are not a loan.
Instead you're a small business owner, with whom we consider ourselves incredibly lucky to partner. Your business is unique, and this is reflected in our approach to your individual customer journey.
As a Prospa alternative we pay attention to the needs and requirements of small businesses in ever changing climates, and we cater to those needs with bespoke lending solutions that are best suited to your business, your team, your community - and you, the business owner.
We're passionate about supporting small businesses. We consider the success you achieve with a Lumi finance solution to be our success. It's more than a mission, for us it's a fight side by side, always present, right there with you - advocating for you to get the best possible deal for your business.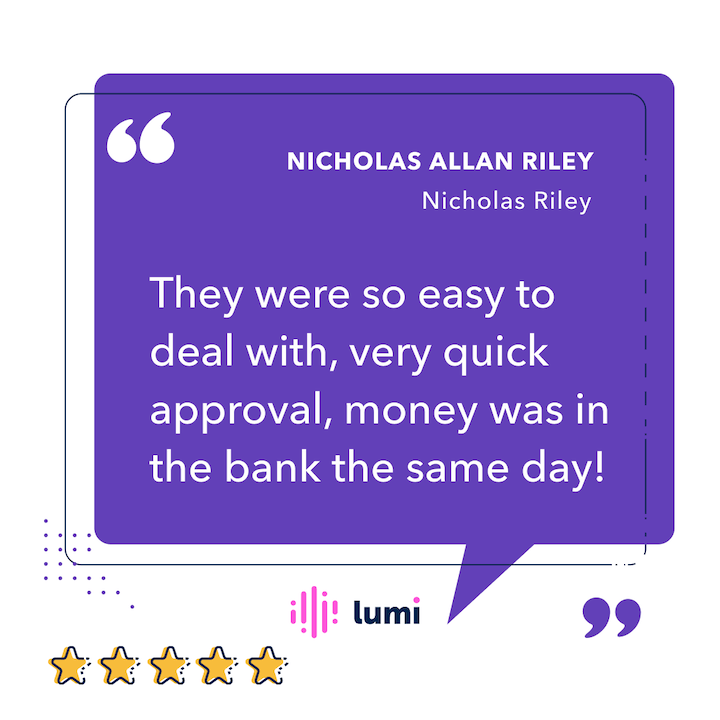 Simplicity & Speed
As a Prospa alternative you can't get more simple or more speedy than a 5-minute online application process. Lumi's low doc loans mean less paperwork and a streamlined, less time consuming application process where you'll typically need the following to complete the application:
A valid ABN/ACN that's been operating for at least 6 months
Bank Statements
Information about any collateral being put forward for a $150,000+ secured loan
Simplifying the process even more, it will directly connect to your bank account for better accessibility. A tried, tested and fully encrypted process that guarantees integrity and accuracy.
In terms of delivering that funding into your hands on demand, this simple and fuss-free application process equals a fast turnaround in less than a few hours when it comes to response times, and the almost immediate transfer of funds, potentially on the same business day, once the application has been approved.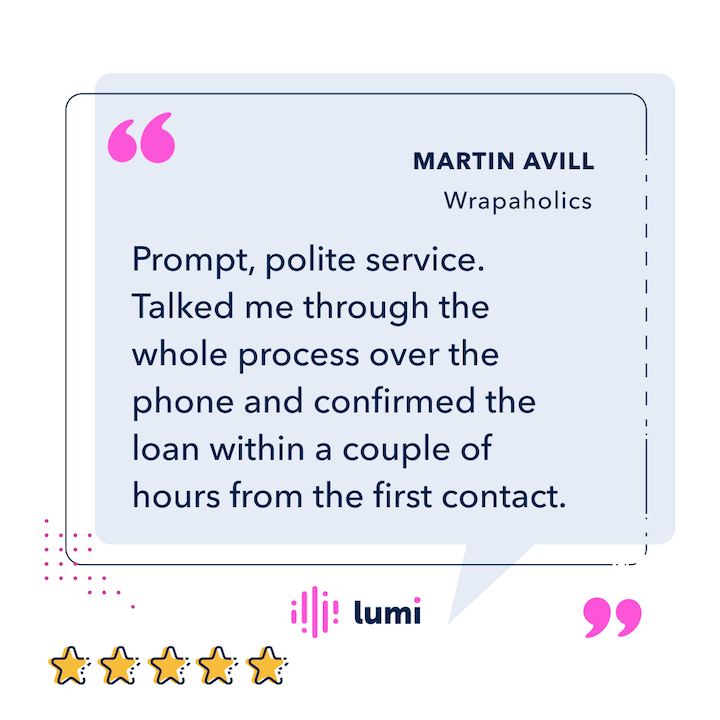 Flexible Funding
As a Prospa alternative Lumi offers a unique key feature that's designed to fit perfectly with your needs as a small business owner. The exclusive Lumi Payment Pause on selected term small business loans, is Australia's first ever interest-free payment pause on a business loan product. It allows Lumi customers to pause loan repayments for a total of 4 weeks, whenever the business requires it and is a reflection of Lumi's commitment to adapting loan products and terms to better meet the needs of small business owners.
Two products in particular also meet these requirements. The Lumi small business loan and our business line of credit offer a wealth of unique advantages, including flexible loan terms and repayment schedules for the former, and the ability to borrow funds up to a preapproved set limit and only pay interest on the amount borrowed for the latter.
We Make the Deal Work
Acknowledging that one size does not fit all means Lumi combines the simplicity of an annual interest rate of 9 to 24% with loan terms that range from 3 to 36 months - and the ability to adapt these features to tailor the best possible lending solution for each individual business. As a bonus Prospa alternative we will always try our best to approve our customers' business loan applications provided that they meet our eligibility and credit criteria.
As an example of how well this package can work for you, consider a recent Lumi client in the architecture industry who was approved for a $250K loan from Prospa - but with interest rates and loan terms that were not the right fit for the business. Given their very specific set of circumstances they approached us here at Lumi as a Prospa alternative where we were able to make them a more suitable offer on a $150K business loan over a 12 month loan term.
We Cater to Every Industry
Even those our competitors are hesitant about. Whether it be construction, transport or any other industry often considered higher risk by other lenders. As a Prospa alternative we are open to the conversation and prepared through our extensive experience in those industries to customise a solution that works.
We know better than most that small business is built on big dreams and we look forward to realising them with you.
Apply now and get ready to prosper with Lumi.